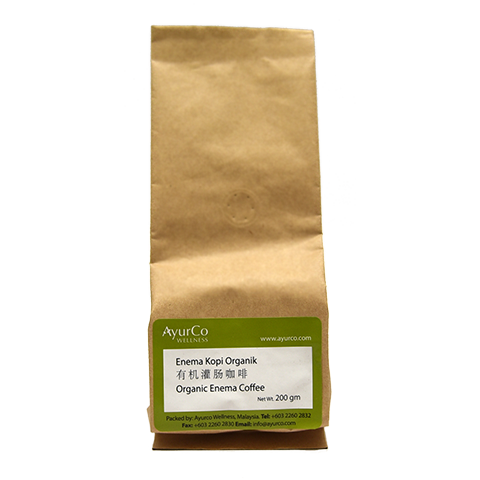 Enema Coffee (200gm)
Regular price RM23.50 MYR Sale
Purpose
Coffee enema is recommended for the effect the coffee has on the liver and blood, not because it clears the bowels.

You should begin doing enemas after you have learned how to do the liver cleanse and been successful at it a few times. To learn how to do the coffee enema, especially in conjunction with the liver cleanse, call 03-2260 2832 to make an appointment. There is a nominal fee for the explanation.

Directions
Bring 3 cups of filtered water and 3 teaspoons of enema coffee to the boil then simmer for 10 minutes. Remove from stove and strain. Add warm water to reach 1.5L of solution at 41C. Alternatively, use a French coffee press.

Once open, keep the coffee in an airtight container in a cool, dry place.
Ingredients
Pure Enema Coffee (Robusta bean)

Description
200g, light roast, medium-fine grind.

The coffee is only lightly roasted for enema use and ground. It has no oils or sugars added to enhance the taste as in drinking coffee. 
Delivered upon payment receipt
1-4 business days Klang Valley, Johor, Penang; 
1-5 business days rest of peninsular Malaysia; 
3-7 business days Sabah, Sarawak

Price inclusive of SST where applicable.