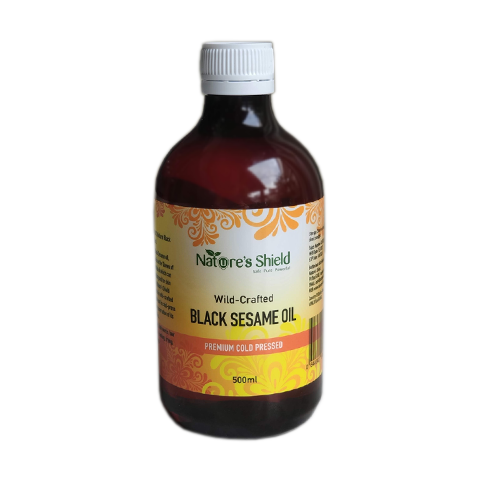 Black Sesame Oil (500ml)
Purpose & Directions

This oil has three uses-
    1.    Oil Therapy
    2.    Body Massage
    3.    Food
Oil Therapy

Anytime before breakfast, put one tablespoon of cold-pressed, unrefined sesame oil and swish the oil slowly in your mouth. Chew it and draw it through your teeth for about 5 minutes. This thoroughly mixes the oil with saliva and activates the released enzymes. These enzymes draw toxins out of the blood, so it's important to spit it out. You will find the oil takes on a milky white colour as it becomes saturated with toxins and bilions of destructive bacteria.


Visible effects of oil pulling include the elimination of gum bleeding and the whitening of teeth. Oil therapy greatly relieves and supports liver functions, as it takes toxins out of the blood that the liver has not been able to remove or detoxify. This benefits the entire organism.


-paraphrased from "The Liver and Gallbladder Miracle Cleanse" by Andreas Moritz


Body Massage

Warm 100ml or more in a pan for 2 minutes or until a few drops of water placed in the oil start to fizzle. The oil is now cured.

Place in a clean container (dark glass is best) and let cool down until suitable for a warm massage.
Use 25-30ml of this warm oil and massage over the entire body. If reheating, place the cured oil container in hot water until the temperature of the oil is warm to the touch.
Food
Include in salad dressings or as a dip, but don't cook with it.
What is wild crafted?
Wildcrafting is the practice of sustainably harvesting plants from their natural habitat for food, medicine, or other uses.
Ingredients:
Black Sesame Oil
Description

500ml -Amber PET bottle



Delivered upon payment receipt
1-4 business days Klang Valley, Johor, Penang; 

1-5 business days rest of peninsular Malaysia; 

3-7 business days Sabah, Sarawak



Price inclusive of SST where applicable.